better pets. better parents.
We help pets and people enjoy life together by reducing stress, increasing communication and modifying behavior through education and quality advice.​
How We Can Help You and Your Pet
Clever Critters trainers can develop a behavior care plan and provide personalized training. We help dogs and cats of all ages, breeds, and temperaments. Other species of pets on a case by case basis.
*Important Note* 
Before seeking help for a behavior concern from a trainer or behavior consultant, your pet should be up-to-date on veterinary care and have a recent and thorough checkup to rule out pain and other medical factors.
It is important for your veterinarian to identify possible medical causes for behavior concerns – contact a Clever Critters trainer for more information and veterinary referral form if needed.
"Dogs do speak, but only to those who know how to listen."
Services are provided in your home, on-site and virtually. We assess and treat unwanted behavior where it is happening. Examples of on-site work include working with you and your pet while on a walk, at a park or at the veterinarian's office.
Please allow two business days for a response.
Hours:
Friday – Tuesday: 9:30 AM – 5:30 PM
We are closed Wednesday and Thursday.
Hampton Roads, Virginia
[email protected]
(757) 775-7987 (Call or Text)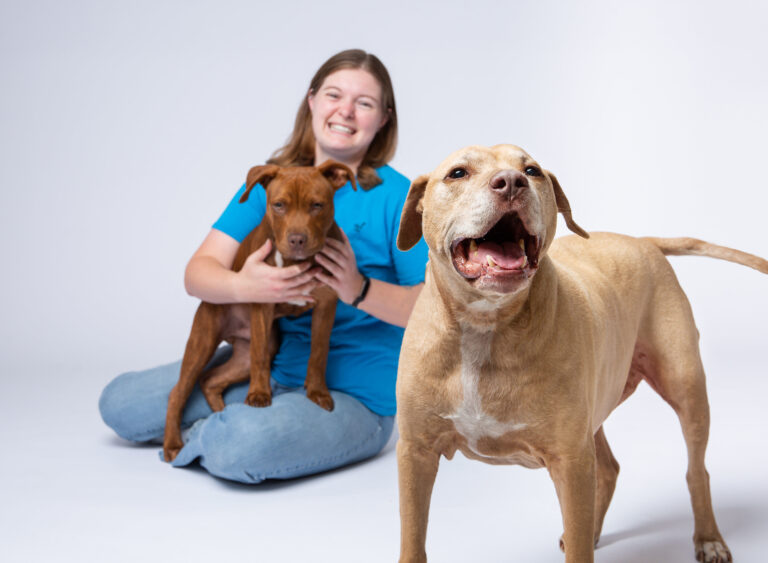 I'm a first time puppy parent, and Taylor and Sydney were ESSENTIAL in maximizing quality of life for both myself and my pup! They have been endlessly helpful— answering all my questions by text between sessions, in home coaching, recommendations for food / enrichment activities / local resources for my pup, and in interfacing with my vet to address my pup's anxiety. I have been working with them from day 1 of puppy parenthood, and the results speak for themselves— he's the most well behaved dog on our street and continues to shine as a beloved family companion! From potty training to puppy socialization and through my pup's reactivity, Sydney and Taylor have helped with everything. For any of your dog's needs or to work on any behaviors that your pup is struggling with, I have full confidence that they'll be able to help you, and it's because of their commitment to elevating the dog's needs instead of asserting human dominance. The method works— see for yourself when you work with them!
Sydney has been wonderful working with my anxious, reactive, and energetic pups. I can't even begin to describe the progress at home and at the vet. I used to have to pay so much money to have one of my dogs sedated for her vet visits as she has an ongoing medical issue. She has been able to work through and learn cooperative care. Now she is engaged and willing to do procedures she used to have to be sedated for. She, especially, loves Sydney so much!
Maksim Motrenko
2023-11-04
Taylor has been a life savor. It was amazing to witness how much Beamer has changed for the better. While we still have a long road to go, I am forever grateful for clever critters. Thank you so much!
I can't say enough good things about Clever Critters. We had worked with another trainer before who ultimately left us confused and we were struggling with what to do for our anxious, guarded 5 year old pup. Destiny has been an absolute god-send when it comes to working with our pup and positively working on behavioral solutions. We've been able to make so much progress with him and feel so empowered in our training! It's not an overnight, quick fix and nothing will be but if you want a team who truly care about the success of you and your pup- give clever critters a call!
I have been through several trainers over the years and am so thankful to have finally found Sarah Connor. She is knowledgeable, patient and kind to our dogs. After working with other trainers for several sessions, Sarah was able to successfully communicate with our dogs through positive reinforcement within the first 15 minutes of our first session. I almost cried – I was so relieved and happy to see that my dogs understood what we were asking and were enjoying the training. I highly recommend Sarah and Clever Critters – SO thankful for them and all their knowledge!
Clever Critters is a fantastic dog training business. I've worked with both trainers, and I feel like I learn something new every time. They're very kind and incredibly patient – which I appreciate because it takes me a minute to learn/understand things. I have a Pitbull at home, 7 years old. She's very sweet with the family, but incredibly nervous/reactive when out and about. When we did our initial consult and the trainers learned more about my dog, it was incredible to hear them explain what it was she was doing and why she (most likely) behaves the way she does. And I have to be honest, I've known that my dog growls and snarls and lunges at people and that she doesn't like most things. But I never knew that what I was seeing was actually her telling me that she's very nervous and uncertain and scared, and she's not behaving the way she is to make things harder for me, or because she's "being dramatic". These dog trainers really opened my eyes, and shed a light on my dog's behavior. Don't get me wrong, you're absolutely going to have to work for it if you want your pet to get better with whatever concerns you're having. Clever Critters is not going to do the work for you, but they're going to help you figure out the best way(s) to help your pet. And for that, I honestly can't thank them enough. TL;DR: Clever Critters is a fantastic dog training business, and you will not go wrong if you decide to hire them. Five stars all the way!!
They are amazing and so patient with animals and their humans. They set up and individualized training plan for your specific dog and their behavioral issues. They are also super affordable. Their take on positive reinforcement makes training so much easier!
Our Mastpry 's started the puppy socializing class and did wonderful in it. Sydney has a true love for animals. Our little guys are so much better because of her talent to teach us how to watch for behaviors in our pets. The homework was so easy to follow through. We are looking forward to continue training and helping us help our pets to be the best they can be. "Obi", Sydney's bully, was a real sweetheart to our boys with the interaction part of the learning. We love the fact that, there are trainers, that train at your home, versus sending your pet off to a boarding school for 2 weeks. Give her a try, you won't be disappointed. We ready for the next phase of training!