better pets. better parents.
We help pets and people enjoy life together by reducing stress, increasing communication and modifying behavior through education and quality advice.​
How We Can Help You and Your Pet
Clever Critters trainers can develop a behavior care plan and provide personalized training. We help dogs and cats of all ages, breeds, and temperaments. Other species of pets on a case by case basis.
*Important Note* 
Before seeking help for a behavior concern from a trainer or behavior consultant, your pet should be up-to-date on veterinary care and have a recent and thorough checkup to rule out pain and other medical factors.
It is important for your veterinarian to identify possible medical causes for behavior concerns – contact a Clever Critters trainer for more information and veterinary referral form if needed.
"Dogs do speak, but only to those who know how to listen."
Services are provided in your home, on-site and virtually. We assess and treat unwanted behavior where it is happening. Examples of on-site work include working with you and your pet while on a walk, at a park or at the veterinarian's office.
Please allow two business days for a response.
Hours:
Friday – Tuesday: 9:30 AM – 5:30 PM
We are closed Wednesday and Thursday.
Hampton Roads, Virginia
[email protected]
(757) 775-7987 (Call or Text)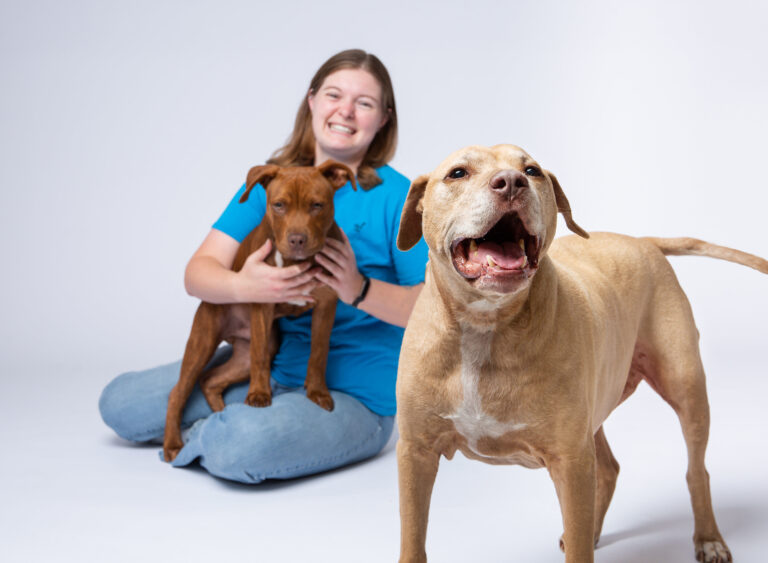 Clever Critters is a fantastic dog training business. I've worked with both trainers, and I feel like I learn something new every time. They're very kind and incredibly patient – which I appreciate because it takes me a minute to learn/understand things. I have a Pitbull at home, 7 years old. She's very sweet with the family, but incredibly nervous/reactive when out and about. When we did our initial consult and the trainers learned more about my dog, it was incredible to hear them explain what it was she was doing and why she (most likely) behaves the way she does. And I have to be honest, I've known that my dog growls and snarls and lunges at people and that she doesn't like most things. But I never knew that what I was seeing was actually her telling me that she's very nervous and uncertain and scared, and she's not behaving the way she is to make things harder for me, or because she's "being dramatic". These dog trainers really opened my eyes, and shed a light on my dog's behavior. Don't get me wrong, you're absolutely going to have to work for it if you want your pet to get better with whatever concerns you're having. Clever Critters is not going to do the work for you, but they're going to help you figure out the best way(s) to help your pet. And for that, I honestly can't thank them enough. TL;DR: Clever Critters is a fantastic dog training business, and you will not go wrong if you decide to hire them. Five stars all the way!!
They are amazing and so patient with animals and their humans. They set up and individualized training plan for your specific dog and their behavioral issues. They are also super affordable. Their take on positive reinforcement makes training so much easier!
Our Mastpry 's started the puppy socializing class and did wonderful in it. Sydney has a true love for animals. Our little guys are so much better because of her talent to teach us how to watch for behaviors in our pets. The homework was so easy to follow through. We are looking forward to continue training and helping us help our pets to be the best they can be. "Obi", Sydney's bully, was a real sweetheart to our boys with the interaction part of the learning. We love the fact that, there are trainers, that train at your home, versus sending your pet off to a boarding school for 2 weeks. Give her a try, you won't be disappointed. We ready for the next phase of training!
We adopted a dog that was in the shelter almost 2 years and had a very bad first year of life before that (abuse and neglect). Most people thought it would be impossible for Jersey to be integrated with other dogs or even meet new people but Clever Critters (Sydney) helped us out tremendously with it. They went from interacting through closed doors to double gates to gates to now walking in harmony and traveling to new places and being together. She has also continuously opened her people circle to meet new people with less and less time to open up. Because of Clever Critters, we were able to integrate Jersey in with our other 6 rescues and although they may never be sleeping with one another or resting on the couch together, they are now further than anyone thought possible. She worked within our limitations (kids, work, limited time) and came up with plans and training that worked for us. The visual identification of stress and anxiety (as well as mitigating it) was the most helpful and so glad we started with that. Sydney really worked to find what was the best for us and our animals. We will be using her again when we move to our new house. I think everyone who adopts a pet should use a behaviorist, at least for the first couple of weeks while they decompress.
Sydney was an incredible help with our fear reactive dog. He still has issues, but we learned management and training techniques that allow us to safely work with him. She also helped us find a vet when we needed to go the medication route to see progress. Sydney will work tirelessly to help you, if you put in effort on your end to work with your dog. Cannot recommend highly enough.
Sydney was great with our dog Otto, a 5 year old schnoodle who has anxiety issues that cause him to be aggressive toward strangers and bark whenever we leave. We continue to use the techniques and training she taught us and find that every day he becomes more and more calm. He used to charge the door and bark if someone walked by, but now he barely lifts his head off of the couch. On walks he used to pull toward strange dogs or bark at strangers, but now he simply keeps going. When we leave the apartment, he doesn't whine or bark at all anymore. We can have visitors over now, provided that they and Otto follow the rules. I really feel like Sydney's training helped us get closer to our dog and probably saved Otto from making the fatal mistake of biting a stranger. I would highly recommend Sydney and her training methods to any dog owner whose pooch has aggression or anxiety issues.